Debt.com signs endorsement deal with 12-time Olympic medalist Ryan Lochte
We never thought we'd be saying this (or be so happy about it), but Debt.com has made it on TMZ! The celebrity news site featured Debt.com thanks to our new partnership with 12-time Olympic medalist Ryan Lochte. Lochte will be appearing in a series of Debt.com ads that focus on new beginnings and recovering after life happens and sends you down a path you might not have seen coming.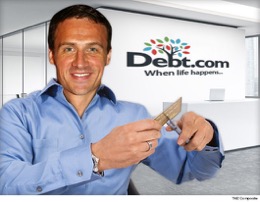 "Debt.com gives Americans a chance for a new beginning, and I am glad to be involved with a company dedicated to helping people with the opportunity to get back on their feet and move forward," Lochte explained.
We're also excited about what Lochte is doing with Debt.com's part of his new beginning. He's asked for a portion of the proceeds he receives from this endorsement to be donated to Parent Project Muscular Dystrophy.
"At Debt.com we help people come back from tough personal financial situations and we are in the business of new starts," explains Don Silvestri, former NFL star and president of Debt.com. Silvestri goes on to explain why the endorsement is such a good fit – recovering from the financial choices that may have led a person down a tumultuous path is what the brand is all about.
Finding your own new beginning
If you've ended up in a situation that's not what you want in life, it's time to turn the page and find your own new beginning. Whether you're dealing with high-interest credit card debt, student loans, tax debt, debt collections or a low point in your credit life, we can help you turn it around and start a new story of financial success. If you're ready for your second chance, call us or complete the online application to tell us what we can help you overcome.
If you need more information or are ready to get started, call us at (844) 334-1561.